July 2019
| Mon | Tue | Wed | Thu | Fri | Sat | Sun |
| --- | --- | --- | --- | --- | --- | --- |
| 1 | 2 | 3 | 4 | 5 | 6 | 7 |
| 8 | 9 | 10 | 11 | 12 | 13 | 14 |
| 15 | 16 | 17 | 18 | 19 | 20 | 21 |
| 22 | 23 | 24 | 25 | 26 | 27 | 28 |
| 29 | 30 | 31 | | | | |
Calendar


INTRODUCTION:
This mod aims to make the triple shot more accessible and usable for new players, while still keeping the cost at less than $40.
I should mention that this is a compilation of existing mods, all in the one write-up for ease of access and reporduction. Mods include Littlebro05's tripleshot mod, parts of SilentScope's quadshot mod and BendyStraw's concept of the absolver shotgun.
This blaster will be able to be used in both E-Peen and FF:S depending on the attachements used. The added bonus of this mod is that minimal tools are required, only a screw driver, hacksaw (or saw of shoice for cutting pipe, I use rotary pipe-cutters) and a hot-glue gun.
MATERIALS
Triple Shot Blaster
20mm UPVC/conduit
16mm UPVC/conduit
20mm couplers
25mm-40mm reducers
15mm OR 20mm elbow and tee (if using 15mm, use 15mm PVC for the clip of the RSCB and remember to use a piece of 32mm UPVC to secure the coupler.
15mm PVC ball valve or 20mm UPVC endcap
14kg ONN run-out spring or similar 14kg spring
STEP 1:
Open up your tripleshot, remove everything except the parts in this picture:
STEP 2:
Take a 3cm stub of 20mm UPVC conduit and jam it onto the orange piece on the plunger tube. Secure with superglue or epoxy
Will look like this when finished: (ignore mine being 2cm, this was a proof of concept originally).
Dremel the shell so it looks like it does in the photo, if you have no dremel, a sharp knife will do just as well. Remember to do both sides.
If your plunger seal was good as stock (mine was for some reason), leave it, otherwise, make it good.
STEP 3:
Now, this is the bulk of the mod done, slap in a 14kg spring and do the following compulsory reinforcements (using hotlgue) and reorientate the catch spring. Don't forget to remove the spring on the catch itself and fix the catch with the little nub in the down position. Take time now to do any extra reinforcements you feel it may need, I recommend using hot-glue and foam throughout to silence the blaster and to further reinforce it. Have a look at Makeitgo's mod for the octoshot to see an example of good triple shot reinforcement.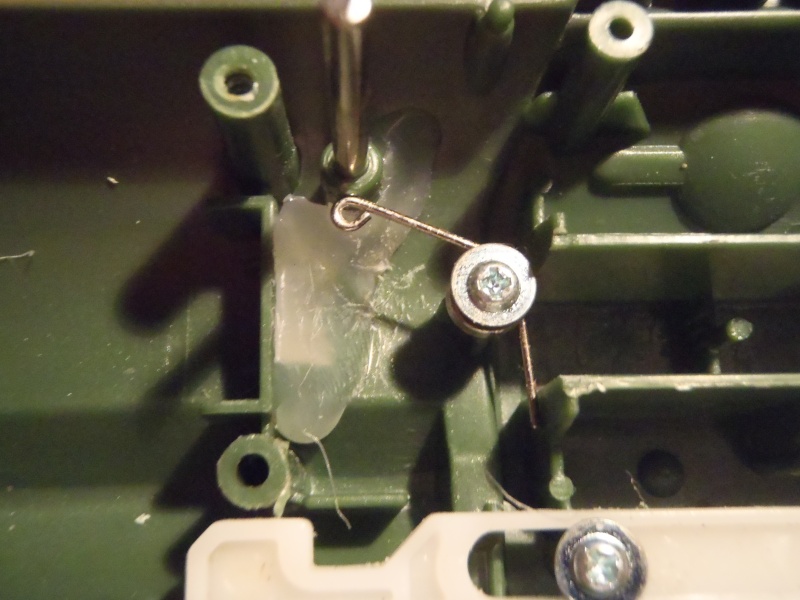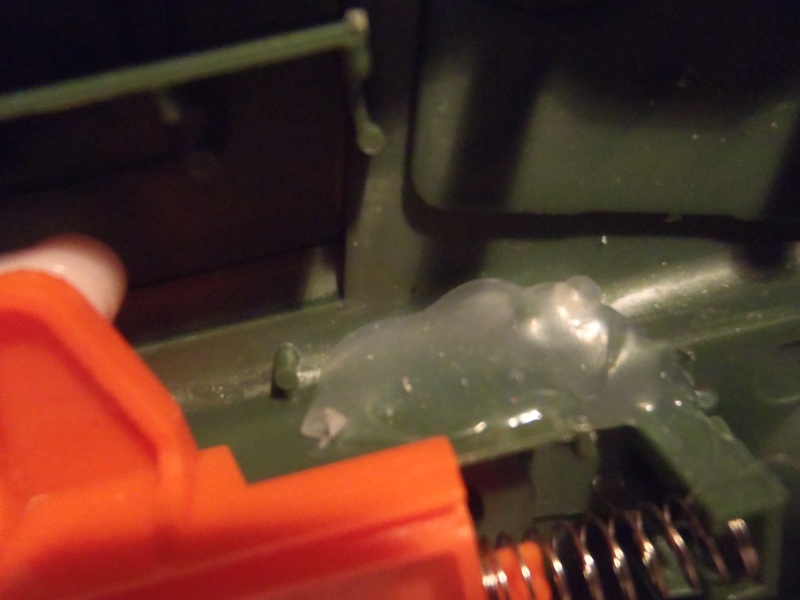 And we're done here, close her up boys!
ATTACHMENTS
Because this mod uses a 20mm stub as the means for fixing barrels and attachments, anything with a 20mm coupler on the end can be used on the blaster. In this write-up, we'll be focusing on RSCB and absolvers.
To make the RSCB, I recommend following the original guide except, use 20mm UPVC and corresponding fittings where possible. If you have to resort to 15mm fittings, ensure you correctly adapt the end of the 15mm elbow to take a 20mm coupler. On mine, (see below) I cut about half of one side of the elbow off and glued half a coupler to it. to secure it, I e-taped it and put a sleeve of 32mm UPVC to secure it. Use ball valves instead of endcaps, they're much more efficient and easier to use.
Absolvers are a case of using a 40mm-25mm reducer, putting 7(seven) 8cm barrels in one end and putting half a coupler in the other end. Why half a coupler? Because I'm stingy. When gluing the barrels in, glue 6 of them around the centre barrel, this eliminates the issue of having to glue small spaces with a bulky hot glue gun. Once in the reducer, fill in the gaps with strips of darts and hotglue.
Here are some pictures of what it should look like when they're done.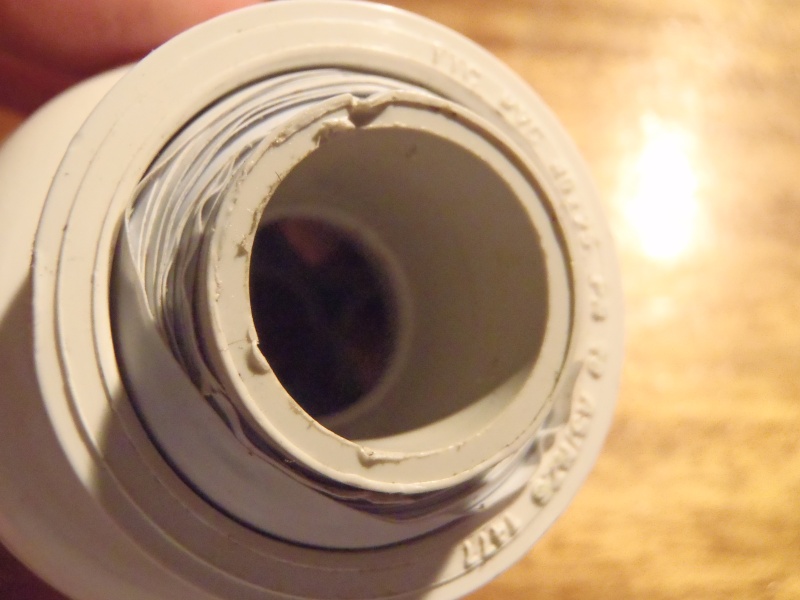 Coupler View
Business-End View
NOTE: Similar 3-shot absolvers can be made using the same method except with a 15mm-20mm reducer.
CONCLUSION:
The triple shot, with these mods is capable of performing well in both E-Peen and FF:S. With the absolver attachment, expect ranges of 35 feet with a spread of about 10 feet and with the RSCB, holding 6 darts, ranges are around 40m+ If you decide to use an RSCB set up for FF:S, simply swap the spring back to the stock one for ranges of about 80 feet.
Last edited by BFG on Sat 12 May 2012, 10:13 am; edited 5 times in total



Posts

: 65


Join date

: 2011-12-23


Age

: 24


Location

: Bomaderry, NSW, 2541



Great mod, mate. No doubt this'll come in handy for FF:S

Do you experience any flexing in the TS's shell with such small amounts of reinforcement?

_________________
Nerfing the Sydney way!
Administrator




Posts

: 174


Join date

: 2011-12-19


Age

: 28


Location

: Bass Hill, Sydney, NSW



There is some flexing, but I've only done the absolute minimum reinforcement in this one in the most problem areas. If I had the option, I'd do a full reinforcement with putty, foam and hot-glue. I'd actually recommend this, I'm just lazy




Posts

: 65


Join date

: 2011-12-23


Age

: 24


Location

: Bomaderry, NSW, 2541





Similar topics
---
Permissions in this forum:
You
cannot
reply to topics in this forum