August 2019
| Mon | Tue | Wed | Thu | Fri | Sat | Sun |
| --- | --- | --- | --- | --- | --- | --- |
| | | | 1 | 2 | 3 | 4 |
| 5 | 6 | 7 | 8 | 9 | 10 | 11 |
| 12 | 13 | 14 | 15 | 16 | 17 | 18 |
| 19 | 20 | 21 | 22 | 23 | 24 | 25 |
| 26 | 27 | 28 | 29 | 30 | 31 | |
Calendar


Alrighty, school's over and I have an entire summer to make blasters for you guys.
QUADSHOT COMMISSIONS
Internals are SS-spec using 40mm downpipe and a 32mm bathplug. These will also feature foot long conduit barrels (to suit new foam, other barrel materials at your request), full internal reinforcement, two rear-loading holes and optional paintjob.
Ranges will be at the 80ft mark with just a stock spring, PERFECT FOR FFS!
If you provide me with a 13kg spring I can install that at no extra charge. With such a spring, expect 40m+ in terms of range. PERFECT FOR PEW! Swapping springs is very easy and can be done in between wars in under 5 minutes.
Those who've used these at wars can vouch for their range and their accuracy (better than a BBLS).
I've broken down the pricing as follows:
$30 Tripleshot (green shell)
$5 conduit barrels
$5 plunger system
$15 reinforcements
$20 Labor (2 hours at $10 p/h)
TOTAL: $75
PROVIDING ANY OF THESE PARTS WILL MAKE IT FAR CHEAPER AND EASIER FOR ME! PLEASE DO SO IF YOU CAN!

so for example, if you provide the TS, I can make it for $45.
Now for some pics,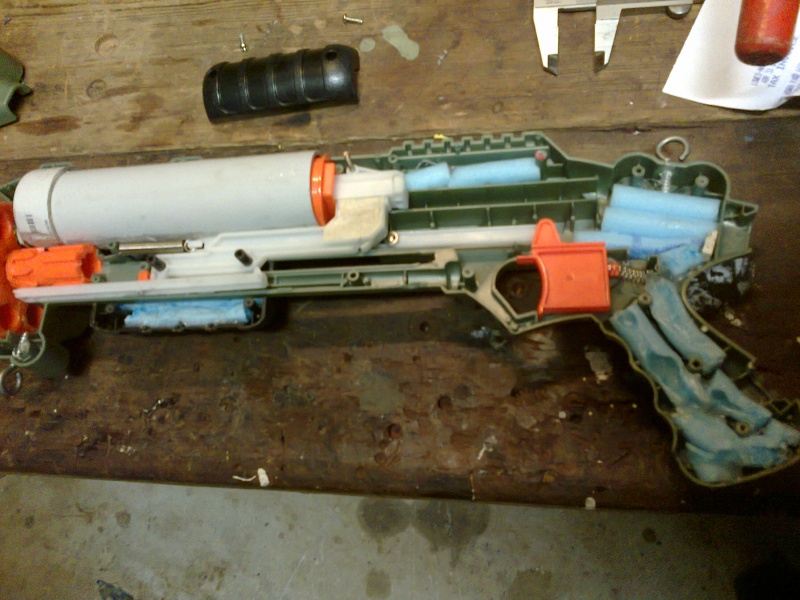 An internals shot showing my current loaner quad, "
The Foxho
ler". On production models, more epoxy putty will be used. (This shell was surprisingly strong to begin with and didn't really need much more than hotglue and foam).
Watch this space for more pics.
NOW DOING MAGBBUMB COMMISSIONS!
Yes you read that right! For a mere
$50 and a BBUMB tank
(other airtanks also accepted) you too can have a MagBBUMB! All other parts, including the magstrike are included in this price. These babies can spew out darts at 35-45m all day at a VERY decent RoF, very comfortable to use, light to carry and just about perfect for any PEW match.
I am willing to do any other commissions as well, just FB me, PM me or whatever and we'll work something out.
All blasters come with custom FREE wazdakka "slogan paint job" if you've seen my compystrike, you know what I'm talking about.
Will also leave it stock shell for free if you wish. Actual PJ's at $15 standard price.
PM me/reply in the thread for any questions.
Last edited by BFG on Wed 02 Jan 2013, 6:53 am; edited 8 times in total
It's not really "Profit", it's more like a cheap price for the labour intensive task
Administrator




Posts

: 54


Join date

: 2011-12-19


Age

: 34



Imo charge at least $50p/h or its not worth getting out of bed.



Posts

: 16


Join date

: 2011-12-20


Age

: 37



I commend you on being so generous for the better of the sydney community.
Really, anyone who wants an octo but doesn't have the skill or tools to do it themselves commission BFG - you won't get a better price.
Thumbs up to you BFG

edit:
btw if you put this up on SNW facebook group I'm sure someone will take you up on it XD seems there's a lot of people on fb who might not be on this forum yet.



Posts

: 10


Join date

: 2011-12-20


Location

: Kogarah Sydney



Prices adjusted to absorb the time costs (kinda forgot about year 12), although still a very accessible price for new players. Considering many modders charge exuberant labour costs, I've kept mine at $10 per hour to remain cheaper than other people, and to help out noobs.
Bump:
First octoshot reserved for MisterJens
BACK ONLINE, GET INTO IT LADS!

---
Permissions in this forum:
You
cannot
reply to topics in this forum