June 2019
| Mon | Tue | Wed | Thu | Fri | Sat | Sun |
| --- | --- | --- | --- | --- | --- | --- |
| | | | | | 1 | 2 |
| 3 | 4 | 5 | 6 | 7 | 8 | 9 |
| 10 | 11 | 12 | 13 | 14 | 15 | 16 |
| 17 | 18 | 19 | 20 | 21 | 22 | 23 |
| 24 | 25 | 26 | 27 | 28 | 29 | 30 |
Calendar

Page 2 of 2 •

1, 2

My minimized stampede, all nice and painted. Accidently got red spraypaint in some of the white parts... dam masking tape but here we go.



Posts

: 50


Join date

: 2012-01-18


Age

: 23


Location

: Sydney



Meet the Strongshot.
- 17/32 brass 1ft barrel, nested in a 9/16 brass receiver
- Deadspace reduced variation of SGNerf's brass breech
- BTv2 (11kg) spring + stock spring (Blue longshot stock spring)
- Still needs work. As you can see, it's got elastic bands around the frontgun in place of proper gluing. Finishing the shell work et al will happen eventually.
- Ranges to come tomorrow morning, but it doesn't look like it's getting any more than 30m (which is disappointing, but I'll experiment with the barrel). However, it seems to be fairly accurate.
Credit to Numbers and Bakabill for help with designing the breech!

_________________
Nerfing the Sydney way!
Administrator




Posts

: 174


Join date

: 2011-12-19


Age

: 28


Location

: Bass Hill, Sydney, NSW



My peen pede




Posts

: 2


Join date

: 2012-05-15



Front attachment suitable for sights - MBUS yo. Oh, and inb4 syringe comments, I use it to rinse my dog's teeth after brushing

While you guys were busy modding in Sydney I made the most Ghetto Longshot foregrip of all time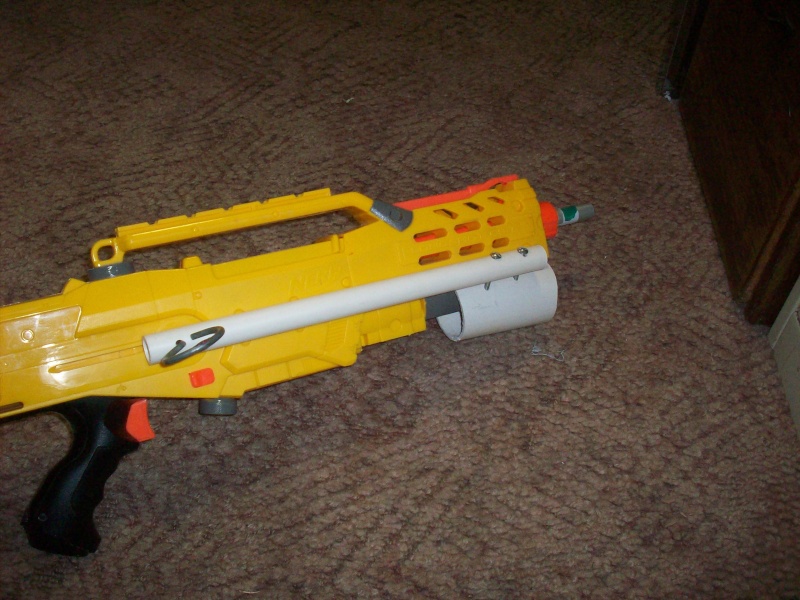 Posts

: 34


Join date

: 2011-12-25


Age

: 21


Location

: Bomaderry, NSW, 2541



Got some spraypaint and just couldn't wait




Posts

: 50


Join date

: 2012-01-18


Age

: 23


Location

: Sydney




Not finished yet, but well on its way. Oh and yes, I sleep with the fishes. Heh~
You've been warned John! Haha

Nice mirsh0! I'm so glad your on the vet team




Posts

: 34


Join date

: 2011-12-25


Age

: 21


Location

: Bomaderry, NSW, 2541



W00 dedication finishing this at such a late hour! Or maybe not. Cheetos?
Finally finished a Doomsayer. Second one evar, and definitely some major improvements from the first. Well some improvements and downgrades :s
-Using stock plunger seal + turret seal with the aid of hot glue (plunger seal is around 90% being srs)
-Stock and SS spring equivalent.
-No plunger padding LOL
-Used popatachi's method of barreling, with conduit.
-Made a spring rest for the trigger spring which has Popeye springs.
-Vinyl dye paintjob (looks dark, but its really blue...navy blue lol)
Don't worry, I wasn't licking it ....or was I?
All c0ndU1tz over here.
In the prototype phase right now, mostly for fun and lulz. Still needs major tweaking.
Dual RSCBs, 4 full length darts each, getting maybe 50ft? And the spread ain't too bad either.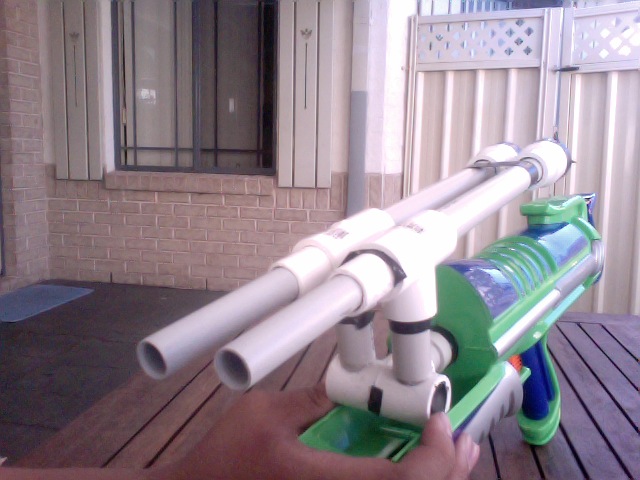 Page 2 of 2 •

1, 2

---
Permissions in this forum:
You
cannot
reply to topics in this forum