July 2019
| Mon | Tue | Wed | Thu | Fri | Sat | Sun |
| --- | --- | --- | --- | --- | --- | --- |
| 1 | 2 | 3 | 4 | 5 | 6 | 7 |
| 8 | 9 | 10 | 11 | 12 | 13 | 14 |
| 15 | 16 | 17 | 18 | 19 | 20 | 21 |
| 22 | 23 | 24 | 25 | 26 | 27 | 28 |
| 29 | 30 | 31 | | | | |
Calendar


INTRODUCTION:
Many people attend Nerf wars wearing tactical vests. The major issue I see with these is their lack of adaptability and the heat issue, I mean come on, you're practically wearing a jumper with no sleeves

I've found one of the best ways to equip oneself is to utilise a harness system, such as the ALICE style webbing favoured by the military during the last few decades.
The key advantage to this is the adaptability and customisation. If you play your cards right, they can also end up being cheaper! Below is my personal ALICE rig:
Webbing Belt
Y-point Harness
Belt comforter
Pouches from left to right:
M16 mag pouch (holds 3 6-clips or one magstrike clip)
SAS drop mag pouch (holds up to 6 18-mags or 4 magstrike clips)
Drop Leg holster (adapted to sit on the belt instead of my thigh, rests better and more manoeuvrable)
Canteen holder (Everyone needs to drink!)
TAS AusCam Minimi pouch (holds 6 18 mags or 4 magstrike clips)
M16 mag pouch
This rig has been a work in progress for about a year now. The best way to find what works for you is to playtest the rig in actual conditions.
All this gear was bought from garage sales and army disposal stores.
CHOOSING BELTS AND HARNESSES:
These are plentiful in both garage sales and army-surplus stores, considering they are being phased out in favour of MOLLE gear and vests. If possible, try to find one that has a Y-point harness as these are more comfortable and leave more room on the belt for extra pouches. H-type harnesses are more common and are usually attached to a bum-bag. For nerf, these bags are somewhat of a hindrance as you have to ask someone else to open them for you, However, they are still quite good.
H-style Harness (no bumbag)
Y-Point Harness
Find a belt to fit you nicely, they are adjustable so don't worry too much.
All this gear ranges from $5-10 for belts and a similar price for harnesses at army-disposals. If you are lucky, the harness may include m16 pouches, which are great for holding pocket howlers if they have the original grenade loops still attached. My harness was $20 at the local army surplus store and came with two of these pouches.
Don't be put off by dirty or worn gear at army-disposals. Despite looking it's age, these things will often last for many decades before finally dying. I'd wager they could last a century!
Lastly, buy a belt comforter as well, these things make running with a harness enjoyable and possible. Pre-used ones are around the $5 mark, while new ones will be closer to $15.
CHOOSING POUCHES
Essentially, think about how you play, are you a clip-hungry dart-vomiting machine? Or are you the crackshot on the hilltop, taking out people from range with a turret or breech? The Minimi pouch is easily accessible and you can buy them new for around $20-30, they are GREAT for holding all sorts of drums and mags and have a VERY secure method of attachment to most belts. They also hold weapon attachments, like absolvers and smaller speed-loaders well. They can hold up to 6 18-round clips or 4 magstrike clips relatively comfortably, they also have a rather firm, solid backing so they don't flop and flick around as much as larger mag-drop pouches when running.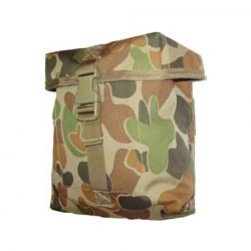 Minimi Pouch
For those who use single darts or 6-shot clips, any pouches will do, even canteen holders working well in a pinch. These are by far THE most common gear available at garage sales. (Dad and I have picked up 7 now!) Keep in mind, the more pouches you have, the heavier your rig can become, so try to keep around two large ammo pouches and two small ones MAX.
The m-16 mag pouches are also good, but are unable to hold large mags. Don't go out of your way to buy them, but if you do find them for cheap, get them as they can go for up to $20 each on ebay.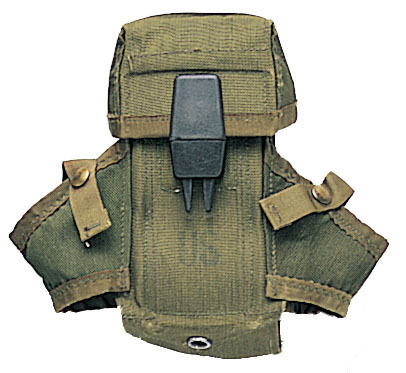 M-16 pouch.
If you use clips, you may want to use a mag drop pouch to avoid having to search for clips during dart sweeps. These are the most optional piece of gear though, so if you can't find one and want one, use a website such as ehobby.com or just use a second Minimi pouch to hold them.
The last two essential pieces of equipment are the canteen holder and the pistol holster. Canteen holders are super easy to acquire, as are canteens. Ensure you open the canteens and smell them first, otherwise, the water in them may taste like plastic when you need a well-earned drink during a war. I personally use a drop-leg holster hooked onto my belt to hold my sidearm. These may have to be sourced from places such as deal extreme, black tactical and, alas, ebay. Don't pay anymore than $20 inc. postage for them though.
CONCLUSION:
So there you have it, the cheap way of having an effective combat rig. In the event of a zombie apocalypse, this is equally as useful (any kind of apocalypse really!). Just remember,
never buy these things from ebay
and buy pre-used where possible.



Posts

: 65


Join date

: 2011-12-23


Age

: 24


Location

: Bomaderry, NSW, 2541





Similar topics
---
Permissions in this forum:
You
cannot
reply to topics in this forum